As I have a NY girlfriend traveling to Paris for the 1st time, I made her a list for a cheap shopping in Paris (at least the cheapest  possible as we, Dollars earners, can really afford anything overseas right now). So here is my ideal shopping list from Paris with the addresses on a Google map on where to find it at the end of the post:
1. BEAUTY / PHARMACY

CREALINE H2O BIODERMA – Best Skin Cleanser, make-up remover – 9 Euros
MONOI HEI POA  – Pure Monoi Oil form Tahiti – 10 Euros
LIERAC "APAISANCE" Anti-Aging Cream  for sensitive skins (Great for winter) – 30 Euros
VICHY DEODORANT 48 Hours –

Spray deodorant no perfume my favorite –

7 Euros
Note : when in Paris got to the Pharmacy City Pharma, they have the cheapest prices and great selection.
2. SUPERMARKET

DEMAK'UP – Extremely softs cotton pads, I am addicted to them – 1.50 Euros
NAIR CIRE DIVINE au Monoi – Microwave Wax comes in 2 flavors Berries or Monoi –  6 Euros
CHOCOLAT COEUR DE NOUGAT – Run straight to the chocolate alley, it's heaven – around 2 Euros
FOIS GRAS – It's French tradition for the holidays, and you can get them through US customs (just make sure it is NOT refrigerated ) – 10 Euros
You can buy all this and much more at Monoprix ( it is could be an equivalent of Duane Reade in NYC  plus they have clothes too ! )

3. LINGERIE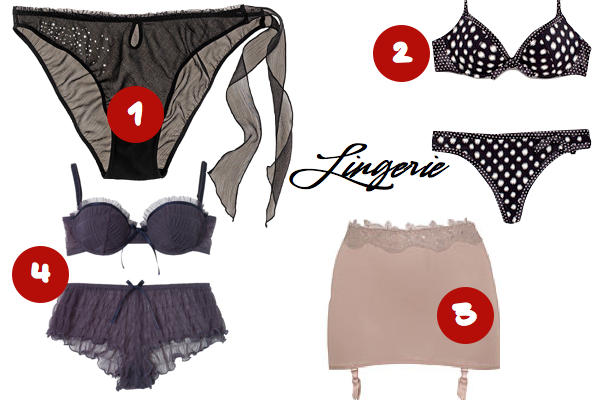 DARJEELING – Black Sheer panty with stones – 15 Euros
PRINCESSE TAM-TAM – Polka dots bra & thong – 39 Euros & 25 Euros
ETAM  – Natalia collection, Garter Belt – 25 Euros
MONOPRIX – Deep Navy Bra & frou-fou panty – 20 Euros & 10 Euros
Below is a quick set done on Polyvore with some Parisian shopping, all below 100 euros or almost…
Some affordable shopping in Paris by Madame Lolo on Polyvore.com
And here is below, a quick maps of the Parisian Shopping with New Yorker's stores references:

View Madame Lolo In Paris in a larger map